Description
850nm Focus Adjustable Laser IR Flashlight Infrared Light Assistance Torch Illuminator for Night Vision Devices – 400 Yard View Distance in Pitch Darkness
• INVISIBLE 850NM INFRARED LIGHT: This IR flashlight emits powerful 850nm IR light, it is invisible to naked eyes, but the IR camera in night vision device is sensitive to it, it can brighten the view of the night vision device without noticing by the preys, so that you can get complete stealth in the dark.
• LIGHT ASSISTANCE FOR NIGHT VISION DEVICES: Night vision devices such as infrared camera, night vision scope, night vision monitor, night vision monocular, night vision binoculars, night vision goggles, infrared monitoring, can see objectives in darkness by detecting the infrared light reflected, so the infrared light emitted by this infrared flashlight can enhance the infrared light and help you have better night vision for night hunting, night surveillance, night observation and so on.
• EASY TO TURN ON AND OFF: Press the tail button of the IR flashlight to switch the flashlight On and Off. If you look inside the flashlight by your naked eyes when the infrared flashlight is turning on, you can see a dim faint red glow in it. That means the IR illuminator flashlight is working. (Warning, please don't look directly on the red dot inside the IR flashlight for long time).
• ADJUSTABLE LIGHT FOCUS: Slide the head of the IR flashlight back and forth to zoom light in and out. Extend the head of the IR flashlight to get wide flood for short distance view, extract the head of the IR flashlight to get spot beam for long distance view.
• POWER SUPPLY: 1pc of 18650 battery is need to power this flashlight.
• Used for surveillance, night Hunting, wildlife observation and exploring caves and so on.
• DON'T POINT THE LIGHT DIRECTLY TO HUMAN'S EYES!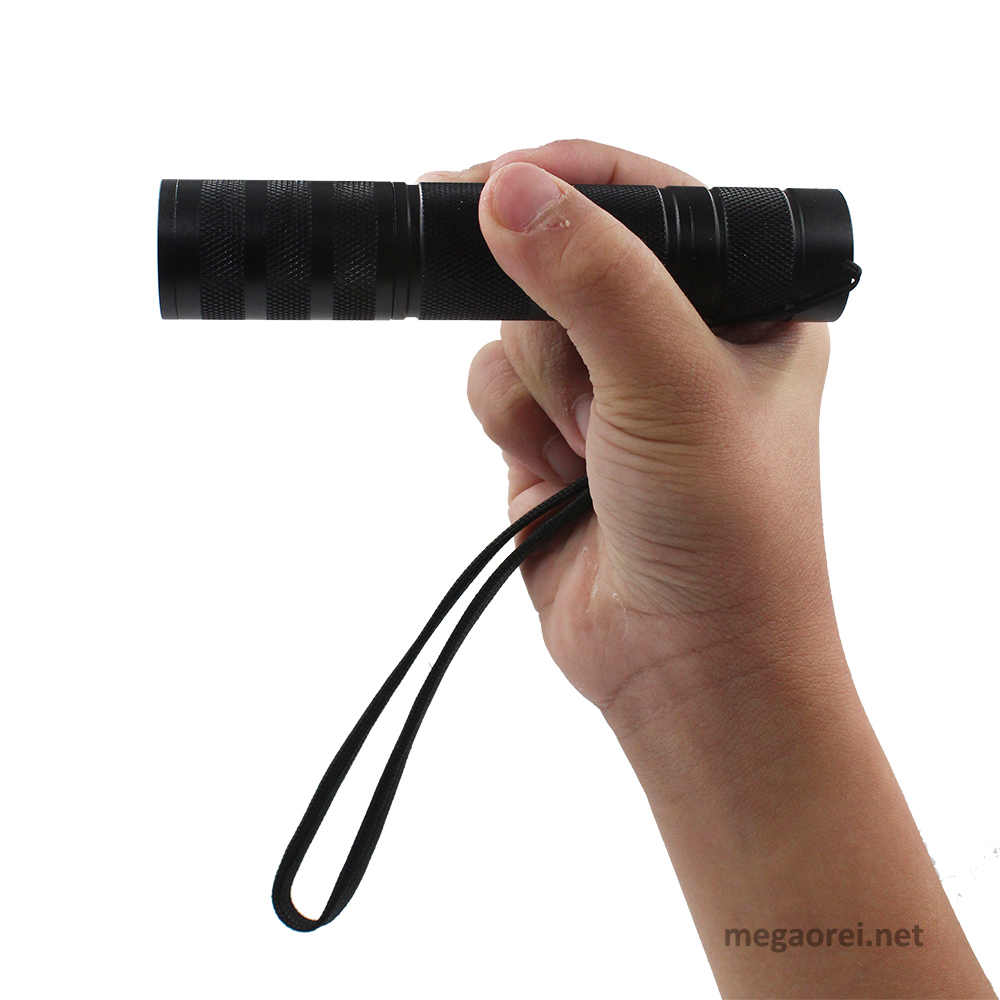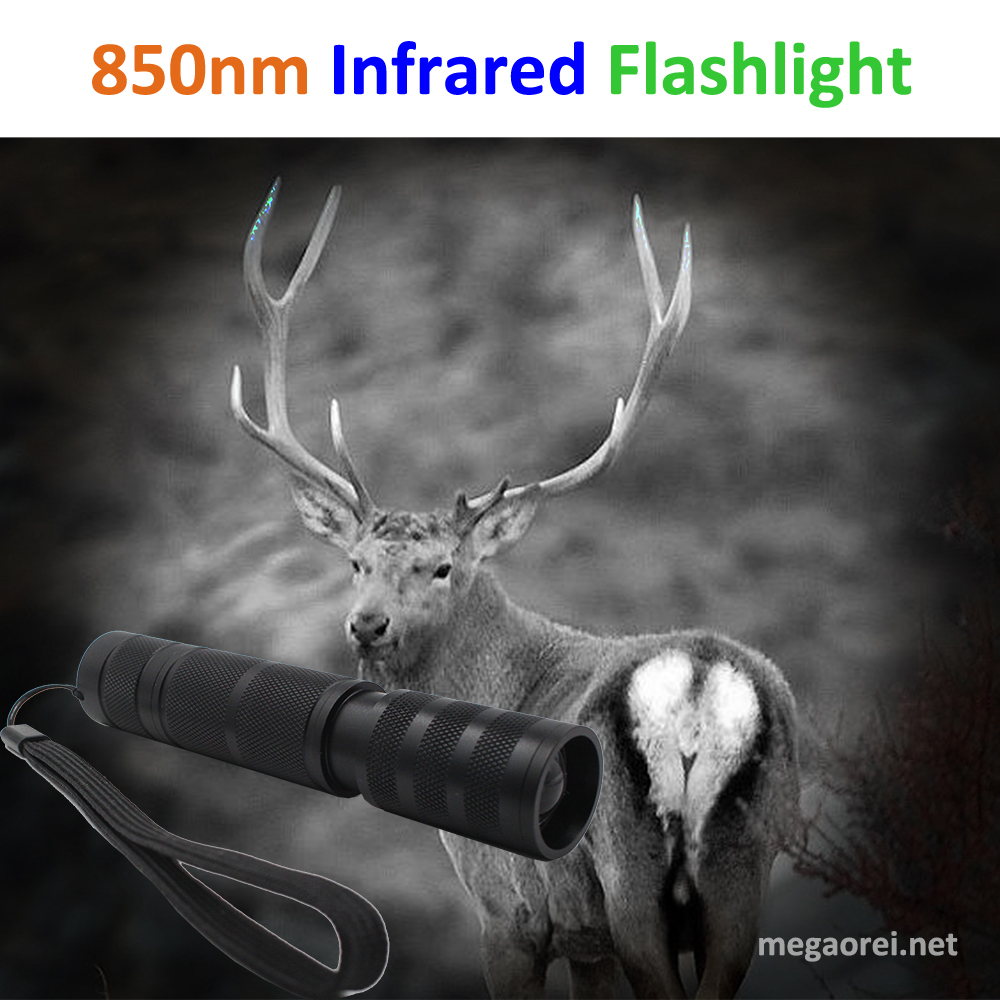 HOW TO USE THIS 850NM IR FLASHLIGHT
See video to know how to use this 850nm IR Flashlight
850NM IR FLASHLIGHT MAKE NIGHT HUNTING MORE PROFESSIONAL
This IR Flashlight does not display the typical glow from thermal imaging you see in movies. It utilizes infrared technology, which means better imaging and does not shine detectable lights keeping your position hidden.
This set is used for Night Vision, it is a light assistance for our Night Vision Device, But we do not promise that you can use on any night vision devices.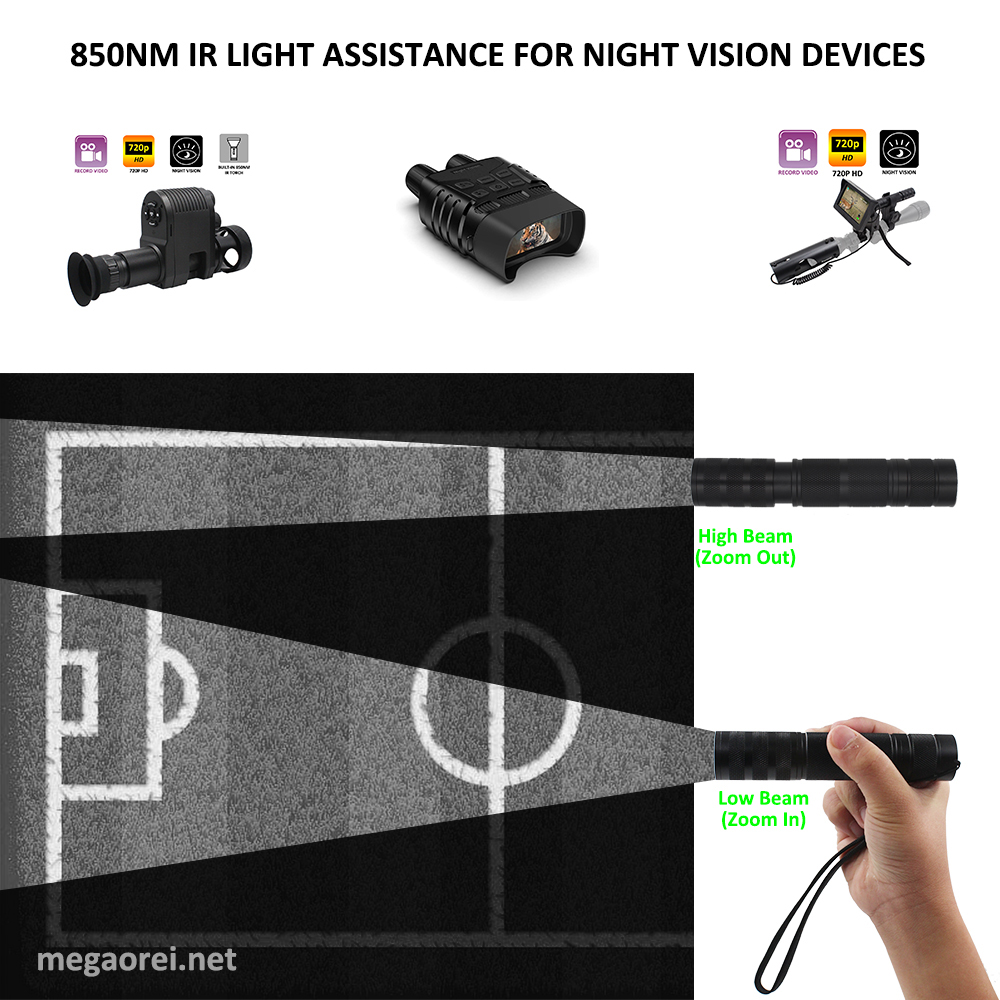 FLASHLIGHT ADJUSTMENT:
The head of the IR flashlight is adjustable, stretch or retract to suitable length to get suitable brightness.
FEATURES
Long Range – Doubles the range of a standard IR illuminator, enhancing the performance of a Digital Scope at night.
Extremely powerful – This IR 850nm infrared illuminator lets you have long effective range in total darkness.
Features an Adjustable beam- focus the beam just enough to light your target well while maximizing range.
Created with superior quality materials – the body is made of aircraft grade aluminum; all glass lens, power IR diode.
Perfect Light for Night Vision Optics
IR illuminators are not really visible to the human eye unless you look directly at the bulb at close range. You cannot see a beam or any kind of light coming off of it unless you are looking through a night vision device.
The 850nm lights generally help you see much further by throwing off lots more light. It has a red glow if looking directly at the bulb. The distance you can see is also related to the proper aiming of the illuminator with the scope.
This 850nm IR flashlight is adjustable. This means that you can widen the beam to a more of a flood light for up close situations. Or you can twist it into a spot light position for more far away scenarios. If you are looking for range, this is the light!
850NMIR INCLUDES:
1x 850nm IR Flashlight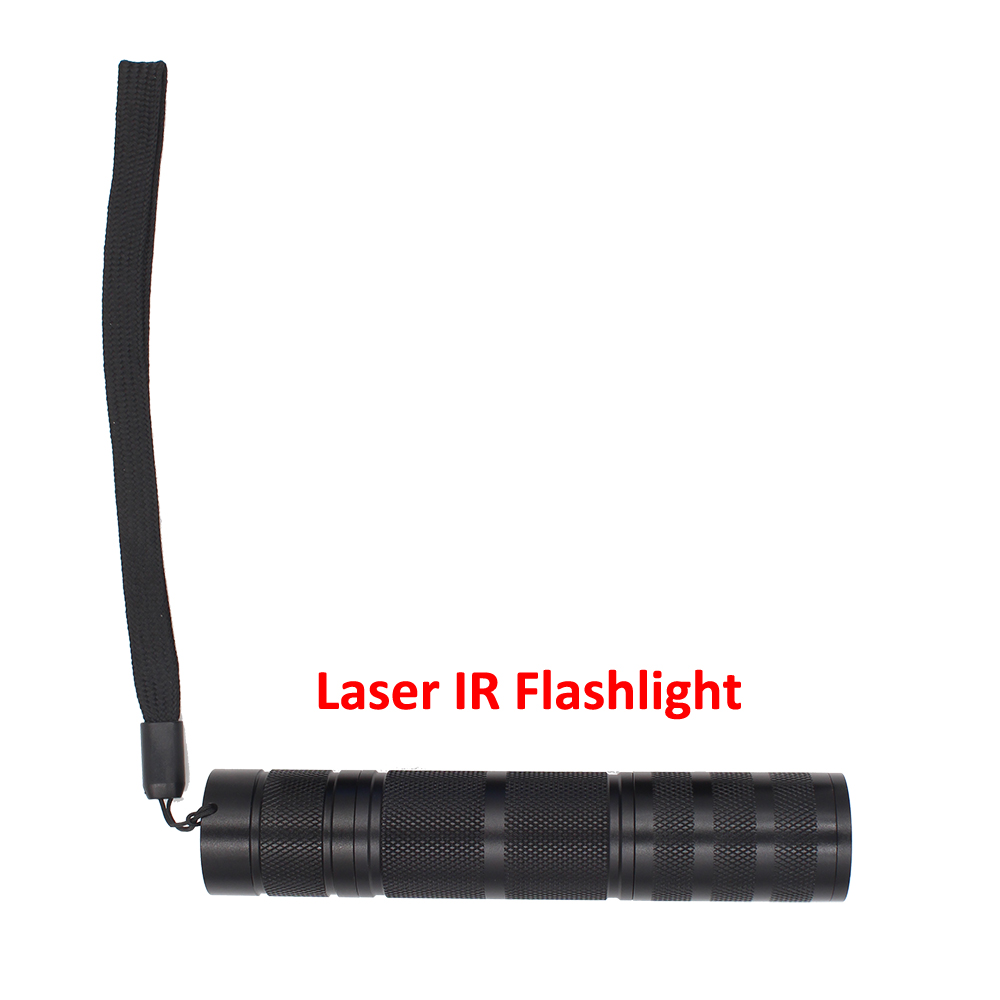 850NMIR-CL INCLUDES:
1x 850nm IR Flashlight
1x IR Flashlight Mount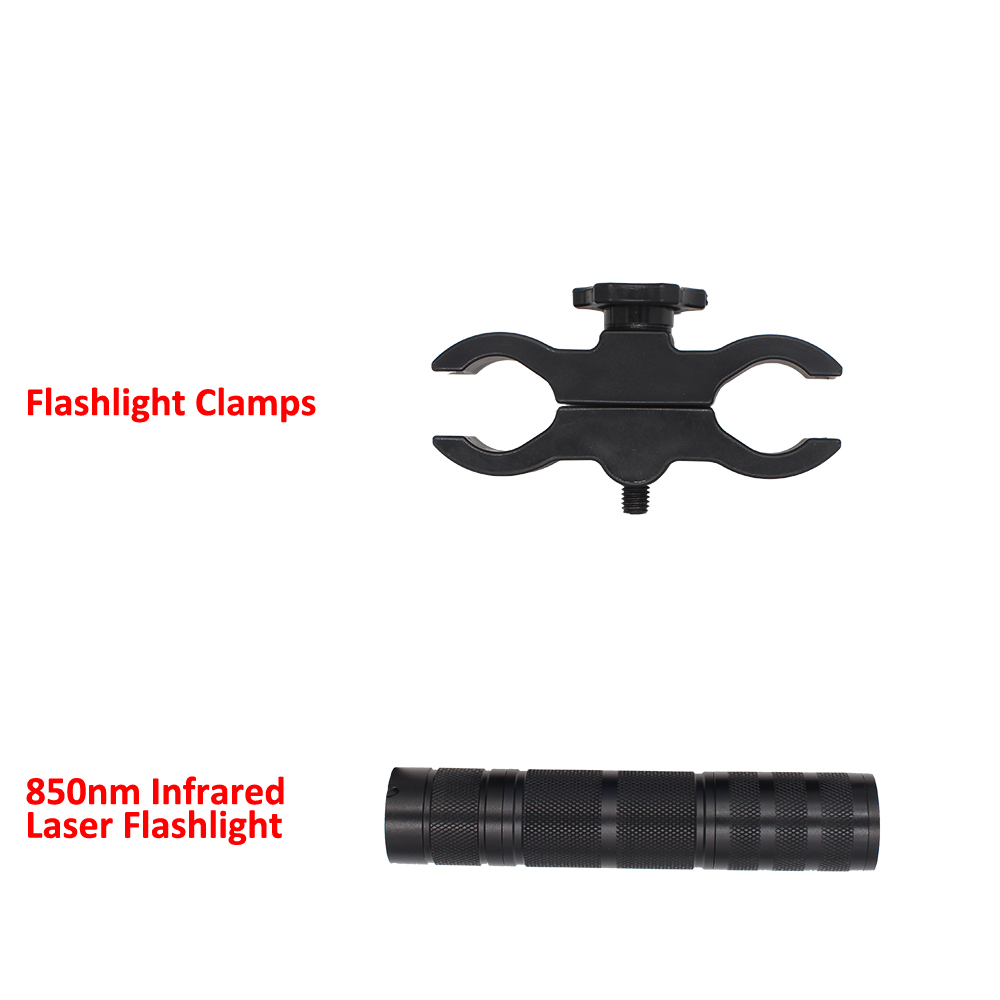 850NMIR-B INCLUDES:
1x 850nm IR Flashlight
1x 18650 Battery
1x USB 18650 Battery Charger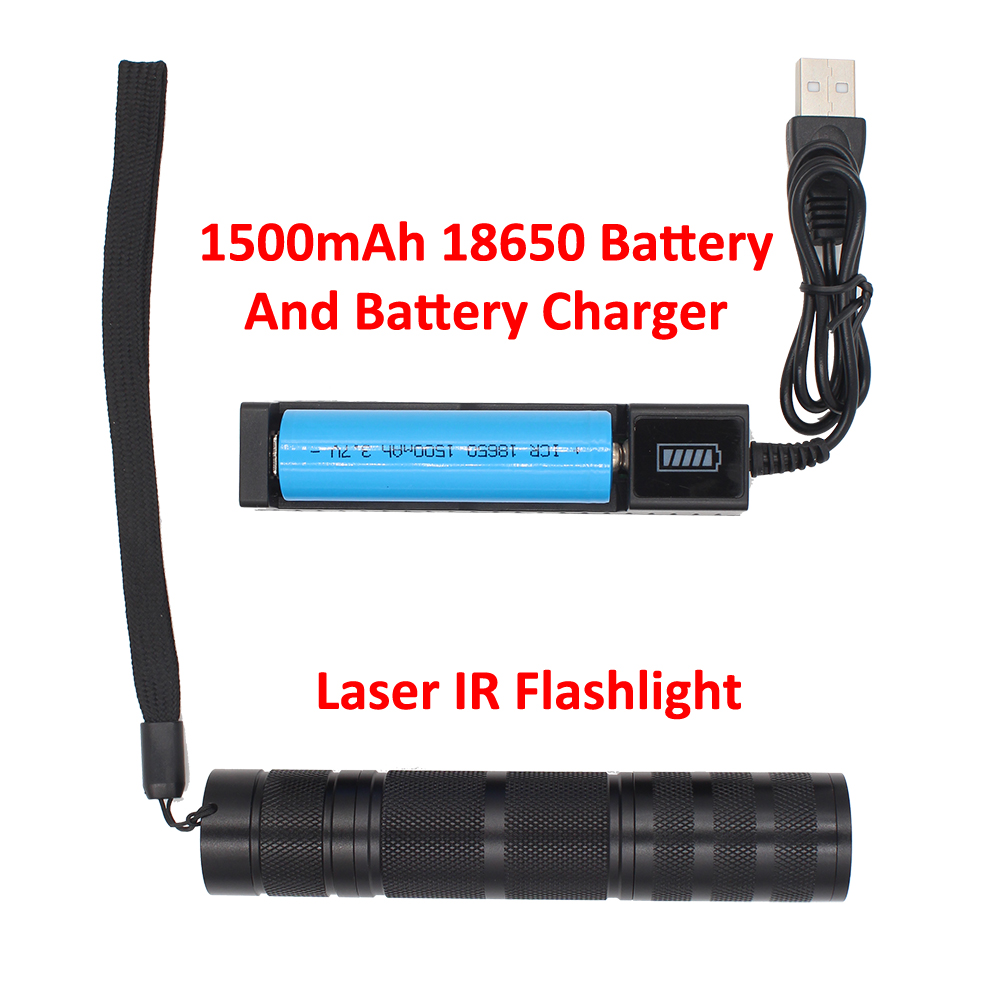 850NMIR-B-CL INCLUDES:
1x 850nm IR Flashlight
1x IR Flashlight Mount
1x 18650 Battery
1x USB 18650 Battery Charger