Description
488nm 200mW Waterproof Cyan-Blue Laser Pointer Focus Dot Laser Torch Flashlight.   The 488nm laser torch flashlight is made of 488nm blue laser diodes . 
Check the following pictures for the diameters.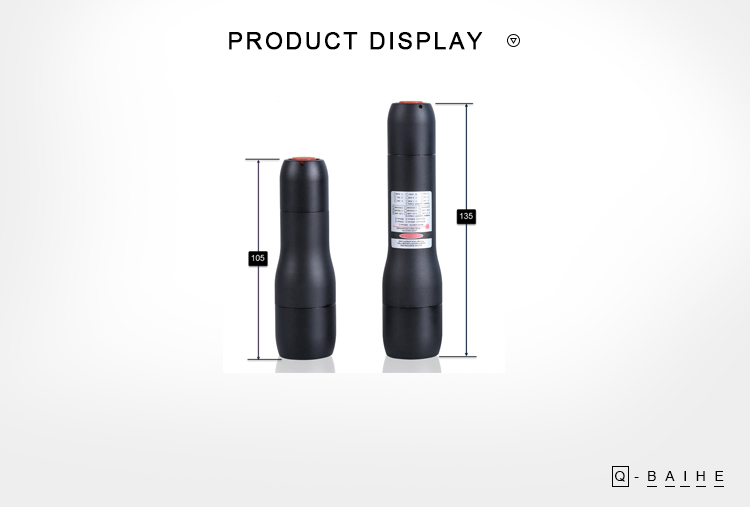 Title:
488nm Cyan-Blue Ray Laser Pointer
Output wavelength
488nm
Shell material:
Aviation aluminum
Surface Treatment:

Fine Matte Black

Gear setting:
Single gear or two gears, constant light and glare (default is single gear)
Switch mode:

Self-locking always on, turning off or tapping the gear shift

Output power:
200mW
Security level:

Class Ⅳ

Light spot form:
Dot
Beam size:

<φ15-18mm at about 5M

Focusing method:
Adjustable focus
Dive level:

5 meters

Working voltage:
DC = 3.7V
Starting voltage:

DC = 2.5V

Warm-up time:
None
Working temperature:

-10 ℃ ~ + 60 ℃

Storage temperature:
-10 ℃ ~+ 40 ℃
Product net weight:

138g

Product gross weight:
185g
Battery direction:
The negative switch is toward the light output, the positive switch is toward the tail switch
Package:
1 * 488nm flashlight
Here are some customer reviews for this laser:
————————————————————-
verschwinde:
This is a truly unique color of laser I have never seen before. I was skeptical it was a laser and not a flashlight. This is actually a laser and at a wavelength I have not seen offered anywhere else in a portable battery powered version. The power output is significantly greater than the 200mW listed. A great product for any laser enthusiast. Fits nicely into my collection.
————————————————————-
rick
True blue and bright, if not perfectly tight
Your mileage may vary, but I'm quite pleased with the item that I received. I've waited nearly four nears for the price of blue lasers to come down far enough that I could buy one with a clear conscience, and at 100 bucks total, this one was a bargain. The color is just what I wanted: cornflower / sapphire blue, not violet / purple like lasers with a wavelength of 405 nm. As I had expected from reading reviews of multiple blue-laser (~450 nm range) devices, the beam is invisible in clear air under most conditions (like the beams of most red lasers, but unlike those of most green ones). It is brighter than the reviews had led me to expect, easily bright enough for classroom use.
---
justjohnny
Well built and sturdy, the tip focuses the beam. The laser is very bright and visible during the day. The beam is visible at night. The pictures don't do the laser justice in showing its brightness. There is no included battery (18650) but, mine did come with a charger.