Description
This 1W blue laser is super bright. It's well designed and stable. It's the best and cheapest in the world! The 1W blue laser is powered by 1x 18650 battery.
Size:φ25.5*140mm
Output wavelength:440-450nm
Output power:850-1000mW
Average power:900mW
Water-proof
Charger included, battery included.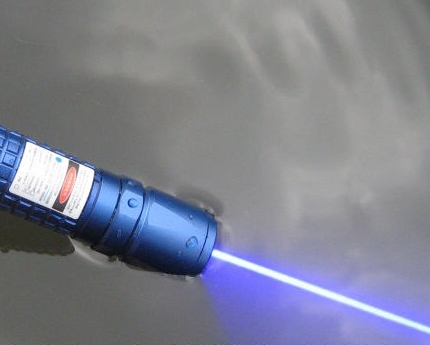 Customer Reviews:
This Laser is very well built and works great, at night u can see the whole beam and during the day it goes pretty far as well, this light isnt really a toy cause it will burn through stuff as well, i like that it can be made inhto a laser and pretty much be unfocused to use as a flash light! overall this a great product and well worth the money! you wont find a ! watt laser anywhere else for this price
— by Justin
Thank you for your rapid processing and delivery of this laser. It is the most powerful portable laser I have ever seen, operates at an unusual wavelength and is an exceptional value. We hope to be able to do more business with you in the future.
We are also looking for a similar size laser that operates in the yellow and/or orange wavelengths (from about 575-615 nm).
— by Friedman
The laser is exceptionally well built. There are rubber seals in every connection to prevent invasive water damage if submersed. The housing is all metal and a truly quality device. It's very sturdy and well built. You can feel the quality just in holding it, the weight and quality of construction are worth the price alone.
— by william
This laser is awesomely powerful and unimaginably bright.The beam is like something out of a mission impossible movie and you can burn pretty much anything instantly with this laser. It's a really powerful device when focused or unfocused.
— by Richard