Description
Plasma Pen LCDLaser Plasma Pen Wart Mole Removal Dark Spot Skin Tag Remover Machine Nevus Sweep Tattoo Removal Tool Beauty Care
Dear friends
Thank you very much for your attention. If you have any questions during shopping, I will reply in time.
We pay attention to the timeliness of delivery and the quality of the products. The delivery is usually within one working day. There will be tracking in the domestic and international logistics. Before delivery, we will check one by one to ensure that the goods are in good condition.
We have better after-sales service, and we hope that every receipt of goods is just the beginning of shopping.
We support bulk ordering.
Theme
This is an effective facial cleansing and protection artifact, which can help improve facial skin texture and bring you moisturized skin;
It can also be used as a gift for friends.
Core functions
1. Effectively remove facial problems: moles, granulation, constriction, age spots, fat particles, warts, freckles, tattoos, hemorrhoids, spots, fleshy hemorrhoids, monkeys;
2. Slight pain, no burns, no bleeding, no traces;
3. After safety appraisal and multiple tests;
Product description
1. The latest spot-sweeping and mole-removing pen adopts microcomputer control and ionized carbonization technology to effectively remove skin problems;
Accurately control the current, carbonize at the moment of contact, and quickly remove the pigment on the surface;
2. There are 9 different treatments of intensity,
Level 1-3: The lower level is used for small spots and freckles;
4-6 grades; spots, fat particles, warts;
Levels 7-9: Higher levels are used for large moles, warts, constrictions, and fleshy moles;
3. The stainless steel pen needle is non-toxic, hygienic, not easy to rust, and can be used safely.
4. The LCD display shows the power and intensity level.
5. Direct charging via USB cable, easy to carry, easy to operate, and capacity battery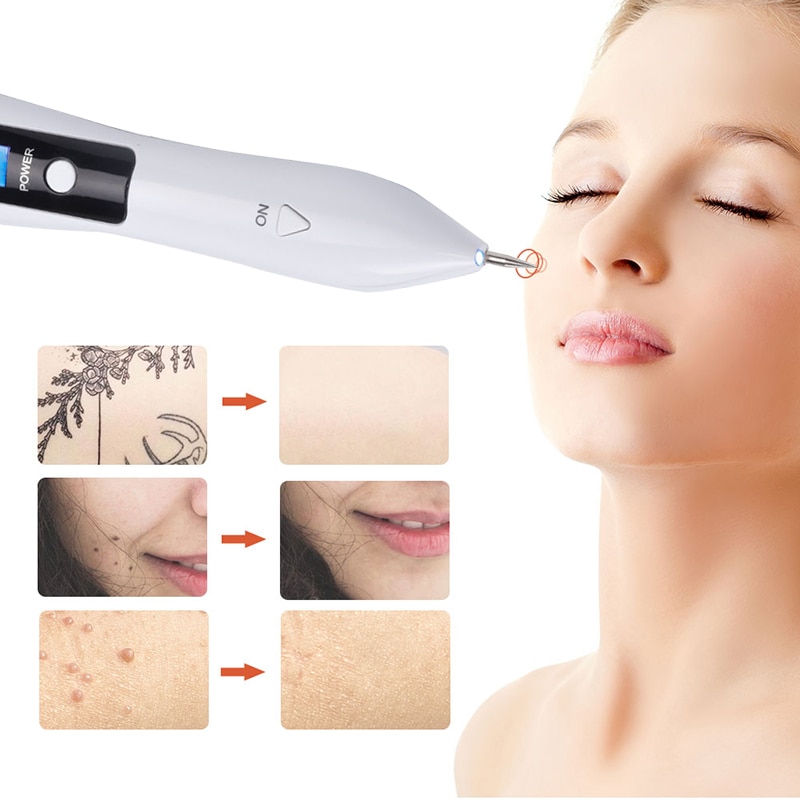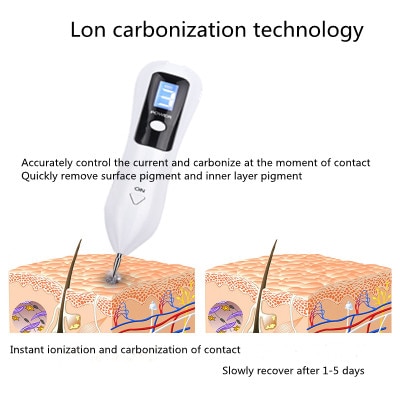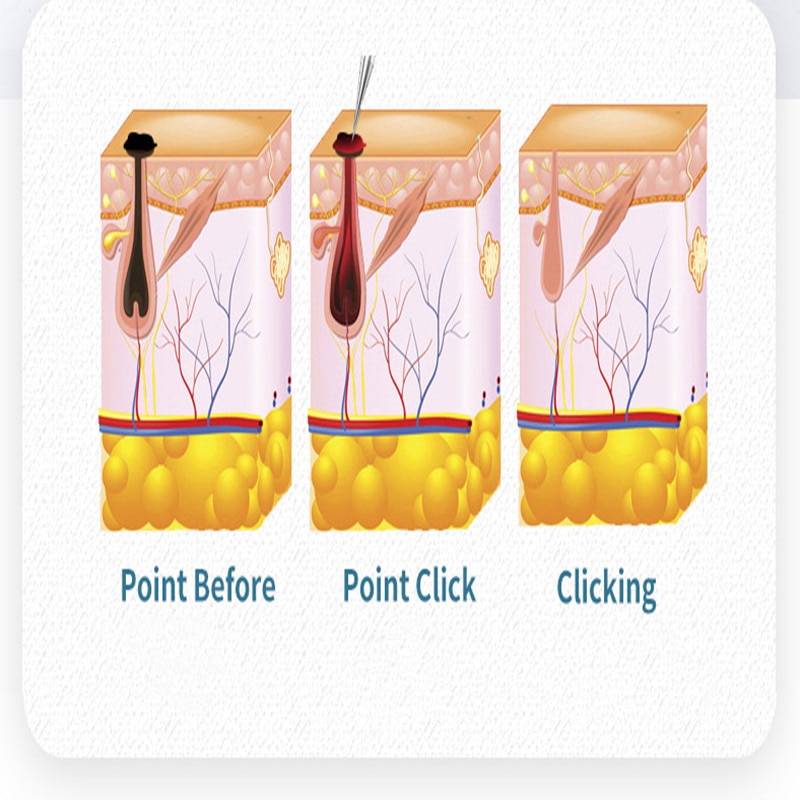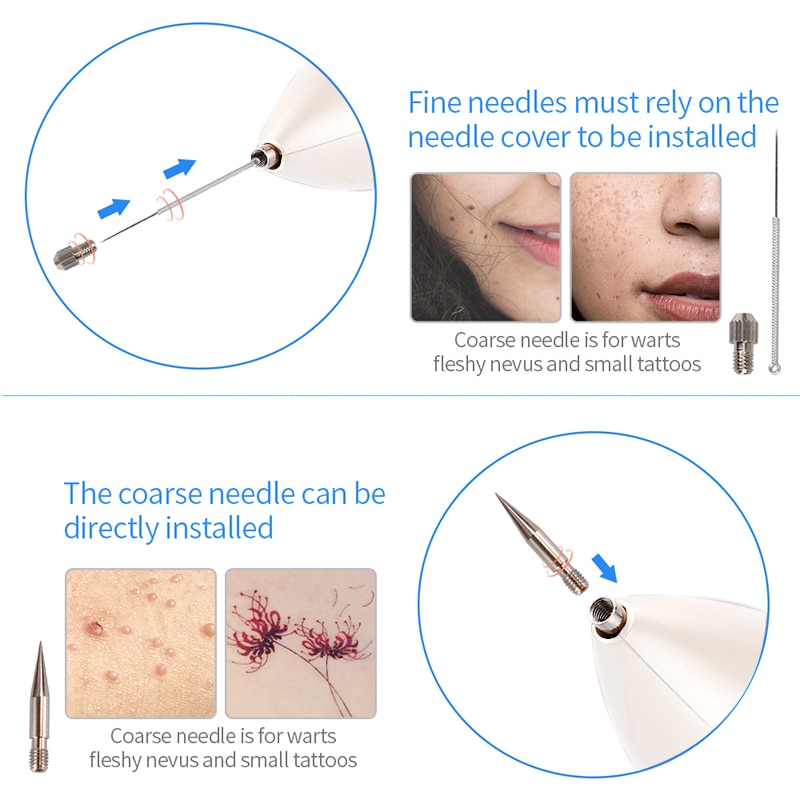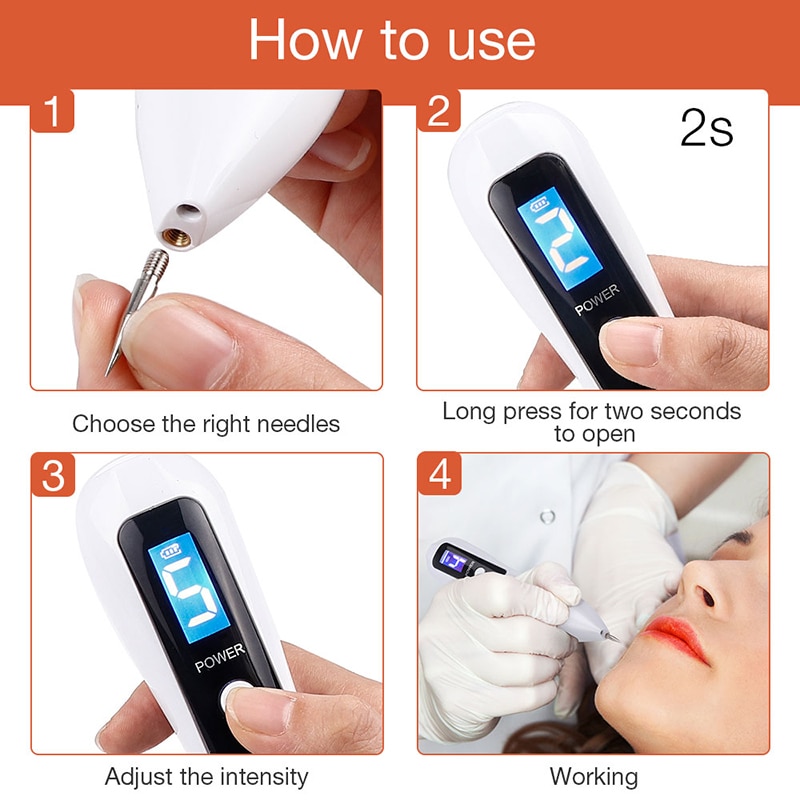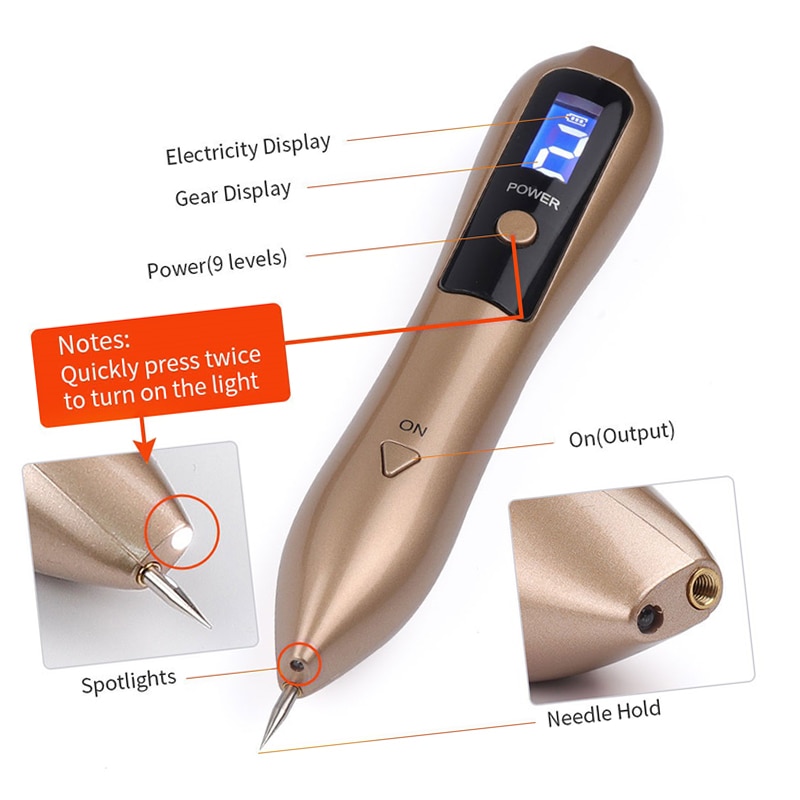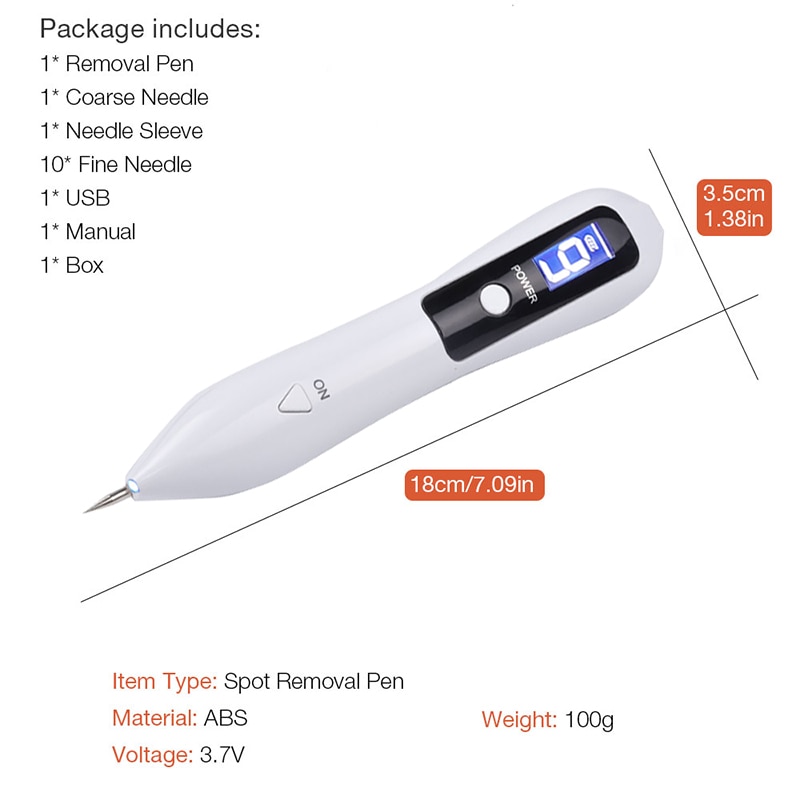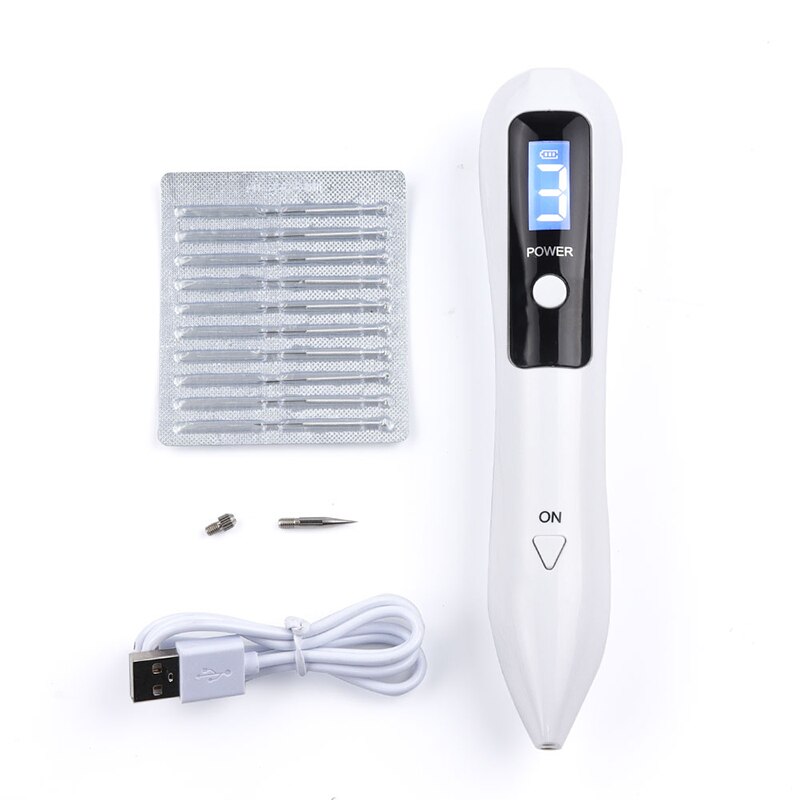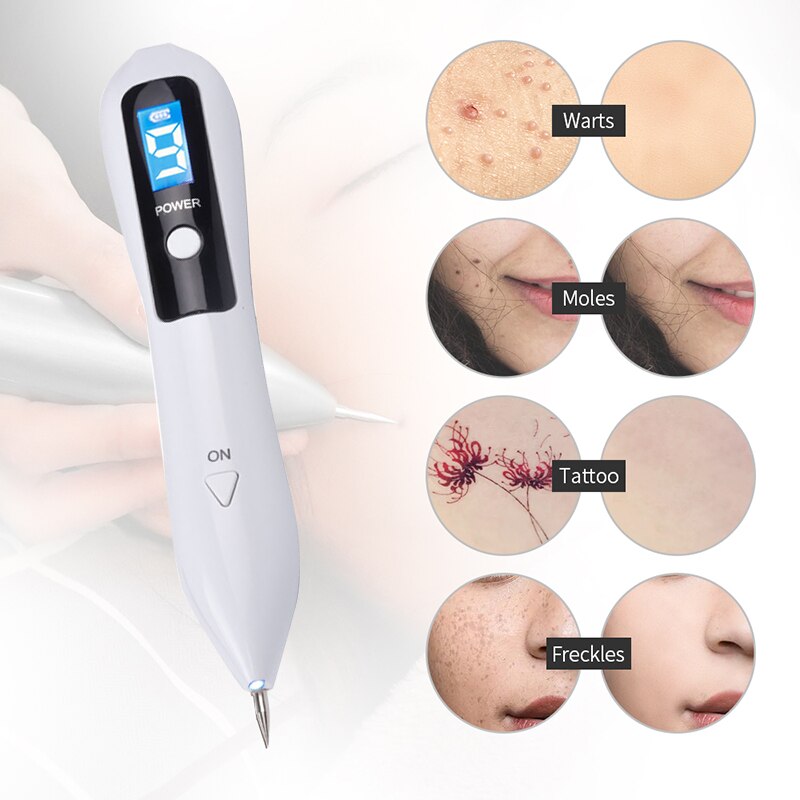 Product parameter
Item type: Mole removal pen
Material: ABS
Power: 5.5W
Voltage: 3.7V
Weight: 100g
Battery capacity: 1800mAH
Fully charged: 4 hours
Use after fully charged: 3 hours
Usage and precautions
Subvert the tradition, no longer have to worry about skin problems
Instructions
1. For those who are sensitive to pain, use alcohol cotton to remove oil from the skin before removing it. (It is recommended to use pig skin to test for the first time)
Practice, master the operation technique)
2. Clean the key points and apply the soothing cream. Wipe off after 15 to 20 minutes. At this time, the soothing cream has started to work. (According to personal situation, different care products can be considered)
3. Press and hold for 5 seconds to turn on the machine. It is recommended that the machine gear start from the low gear, depending on personal acceptance and effect, and slowly adjust it to the appropriate level.
Gear position, hold down the OUT button without releasing it, and aim the pen tip at the position of the key point.
4. Use low-grade operation to get rid of the moles and spots with shallow spots and small areas. For large-area undesirable spots, it is recommended to spot spots in batches, and do not spot too large a spot at one time. During operation, gently sweep back and forth on the spotted mole. Do not stay in one place for too long for carbonization, or do not use force to sweep too deeply, just flatten it. (You can use a cotton pad to erase the carbonized mole spots, etc., after you click a part, and then do another operation.)
5. After the operation is completed, wipe the spotted area with a cotton pad, and apply a small amount of repair liquid to the wound. Keep the wound as dry as possible and avoid touching the water. If it is on the face, when it is necessary to wash the face, use a wet wipe or a relatively dry towel and wipe it gently and quickly. In short, just avoid touching the water and try to keep it dry.
Precautions
About repair
After the operation, apply the repair cream. You can apply it 2 to 3 times a day. Do not touch the water within 24 hours. Do not wash the spotted part vigorously within 30 days, just simply wash it. Do not artificially cause the scabs to fall off.
About nursing
1. Do not expose to the sun in the place where it has been operated.
2. When the scab is itchy (tender meat growth period), do not scratch it with your hands. After a week or so, the scab will fall off by itself.
3. In areas where the face has been manipulated, functional and stimulating skin care products, such as anti-spot masks and anti-spot skin care products, cannot be used
Toners, etc., can only use nourishing and repairing types, such as aloe vera gel, nourishing cream, repair cream, repair liquid.
4. Food: Do not eat food with pigments, such as beef, soy sauce, vinegar, etc.; eat less spicy and pungent foods, such as wine, ginger, etc.
Set meal
1 * Mobile pen
1 * Thick needle
5 * Fine needle 10
1 * USB
After sale
Place an order: Please confirm that your order address is correct, otherwise you will bear any costs incurred from the wrong address.
Delivery: In order to protect both buyers and sellers, AliExpress takes about 24 hours to verify the payment. After the customer places the order and completes the payment, we usually complete the delivery the next day (working day);
Logistics: Most products are free of charge, but in some countries/regions, you may need to pay some additional shipping charges, the actual display on the following page shall prevail;
Transportation timeliness: Generally speaking, the delivery time is usually 20-40 days;
Please pay attention to the three links of delivery-customs clearance-delivery in time,If there is no update information or other abnormalities for more than 7 days, please contact us in time.
Feedback: After signing the receipt, if you are satisfied with our products, we sincerely hope that you can leave us positive feedback (five-star praise and text and picture evaluation), which is our driving force for progress;
If you are not satisfied with our products or have any questions, do not directly negative feedback without seeking our help, before leaving neutral or negative feedback, please contact us for a better solution, we will reply to all messages as soon as possible, Thank you for your patience.
If there is a problem with the product, please contact us 24-48H after signing, and keep the goods and packages, we will assist in handling;
Return: Most of our products participate in the free return service of this platform, which is a guarantee to customers (the buyer should bear the return freight);
Other
1. The teaching videos are sent separately via email
2. Treatment of different skin problems
Remove spots:
Slightly moving back and forth at the position of the contact point, it can be clearly found that the melanin in the electroacupuncture has fallen off after being swept away.
If the sediment is shallow and the area is small, it can be removed at one time. If the area is large and the pigmentation is deep, 2-3 treatments must be performed.
Hairdressers should pay attention when using electroacupuncture. In addition to maintaining the client's posture, hairdressers should keep their hands balanced when holding the electroacupuncture to avoid burns, shadows and wound healing during processing, leaving scars.
Remove moles:
Pay special attention to the degree of moles. Some moles grow on the surface of the skin, but their roots are located in the deep subcutaneous tissue. During treatment, it is best not to scratch the surface of the mole with a small needle.
If the mole grows relatively deep, it is best to wrap the nourishing cream with small living cells within 2-3 days after the wound is healed to avoid inflammation after treatment. When wiping the nutrient cream, pay attention to the inflammation of the wound and do not wipe it.
Remove particles:
The electro-needle mouth slightly touches the granulation, and the root cells from which the granulation is derived will burn the laser needle to death, and the granulation can fall off by itself in about a week. If the granulation is small, you can use a laser radio disposable needle to burn the breeding ground for granulation. If the granulation is large, it should be burned many times to prevent the wound from healing.
Remove tattoo:
Burn the tattoo intensively. If the area is large, a large needle should be used. The method of burning tattoos is roughly the same as that of scanning spots, the operation time may be slightly longer, and the area (greater than 3cm) should be processed multiple times. Otherwise, the consequences of accidental bacterial infections are unimaginable. Beauticians and customers should be careful.
If you have severe inflammation, please go to the hospital for treatment as soon as possible.
3. Frequently Asked Questions
Q: Will there be any side effects if I order it?
A: Physical removal of moles without any side effects.
Q: Does it hurt when you order it?
A: It can be used with a soothing cream. After applying it correctly, it won't hurt.
Q: Will there be scars after clicking?
A: Correct operation and after-point care are not possible. Because there is no potion ingredient,
It is only the superficial skin that is carbonized, and the skin can repair itself.
Q: Will it relapse after point?
A: If the pigment is completely knocked out, there will be no recurrence.
Q: Is it easy to operate by yourself?
A: The operation is simple and easy to use, the effect and feedback of moles are very poor
Wrong, it can be used in a wide range, it can spot moles, epidermal spots, scum, scum, fat
Fat particles etc…
Q: How long can I order? How many can I order?
A: At that time, the mole could be removed, and then the scabs would become scabs, just like ordinary wounds
The same recovery process, this pen can be used for countless points, and it can be used when electricity is available.